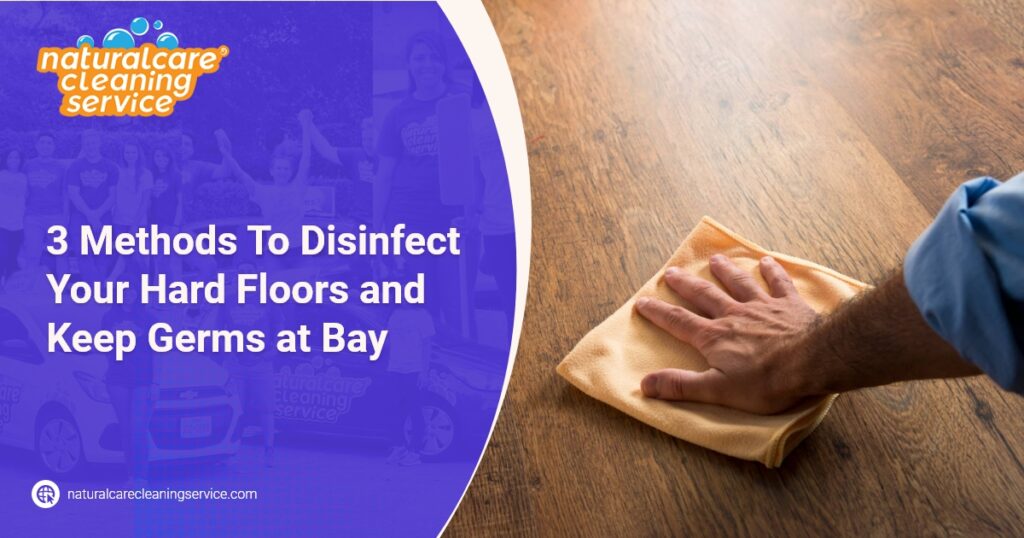 Now more than ever, homeowners understand the importance of keeping germs at bay. It's only natural to look for better methods and more ways to disinfect every surface in your home.
However, when it comes to sanitizing floors, there are still a lot of doubts. Disinfecting a surface as large as a living room or bedroom floor isn't a walk in the park. Besides, types of floors vary from house to house.
Are you looking for a way to keep your floors germ-free and safe for your household? Learn here three different methods to disinfect them!
Method #1. Mop with a DIY vinegar solution 
Many homeowners prefer to make their own cleaning solutions over buying a cleaning product at the store. This isn't surprising; DIY recipes are usually gentler with your household and environment.
If you are looking for a way to clean your floor naturally, here is some good news: you can make a floor cleaner with white vinegar. This kitchen staple is acidic and can help you remove grime. Besides, it works as a mild disinfectant!
However, there are a few downsides:
Vinegar could be harmful to natural stone or hardwood. If you are not sure if vinegar is safe for your floor, spot-test it on a small area to see how it reacts.
To mop hard floors with white vinegar, follow these steps:
Remove dust and debris as you normally would—you can vacuum or sweep.
Make the DIY by pouring white vinegar and warm water into a bucket. Pour half a cup of vinegar for each gallon of water.
Mop the floor with the vinegar solution, but make sure to wring out the mop until it is just slightly damp. 
No need to rinse! Just let the floor air-dry.
Method #2. Use an approved disinfectant
Vinegar and most green sanitizers will reduce the number of germs on a surface. However, it's important to remember that vinegar is not as effective as other disinfectants.
Reducing the number of germs on your floor may be enough, but if you need to make sure a surface is germ-free, you might need to use an approved disinfectant.
If you decide to use a disinfectant on your hard floors, follow these steps:
First, remove dust and debris. You could use a vacuum cleaner or a broom.
Prepare the solution following the product's guidelines. If you use a harsh chemical, your room should have good ventilation. Also, make sure the product is safe to use on your type of floor.
Before mopping the floor, wring out your mop—until it's slightly damp. You might need to wear gloves.
Precaution:
Approved disinfectants are often harsh chemicals (like bleach) and harmful for people and pets. Children or pets shouldn't be in the room while you clean with these products. Also, always make sure to use the right amount of disinfectant!
Method #3 Steam-clean the floor
What if someone told you there is a way to disinfect your floor without using harsh chemicals? That's what steam mops do! If you can afford to buy it, you can leave your floor germ-free and spotless with a steam mop.
However, steam mops can damage your floor if you are not careful! Make sure these devices are safe to use on your type of floor (especially if you have hardwood floors) before investing in one.
Do you need help with the cleaning?
Sometimes, keeping your home spotless and germ–free can feel like a never-ending task. However, you can rely on Naturalcare Cleaning Service to help you with the cleaning! We use an effective dry steam vapor system to ensure your home is safe and clean.
The best part? You can book online in just a few minutes!